From the start, the Miyazaki House Society has planned for conservation and restoration of the Miyazaki House. Our mission is to restore and preserve the Miyazaki House as a heritage property and bring her back to her former glory. Houses built in the second empire style are rare in western Canada especially in rural areas like Lillooet, British Columbia. The Miyazaki House was built with a high degree of craftsmanship using quality materials, including first growth timber.
Why is conservation and restoration of the Miyazaki Heritage House important? It provides cultural, aesthetic, educational, environmental, social, historical, and economic value to the District of Lillooet and area. The main benefits are to businesses and residents in the community, to tourists and other visitors to the area.
The society has been actively exploring funding to repair, preserve and upgrade Lillooet's historic Miyazaki House. Important repairs were completed in 2008 by the District of Lillooet and the Lillooet Lions Club volunteers however like any building, the house requires regular maintenance and repairs to conserve it. You'll also find a list of repairs and upgrades already completed by the society at the bottom of this page.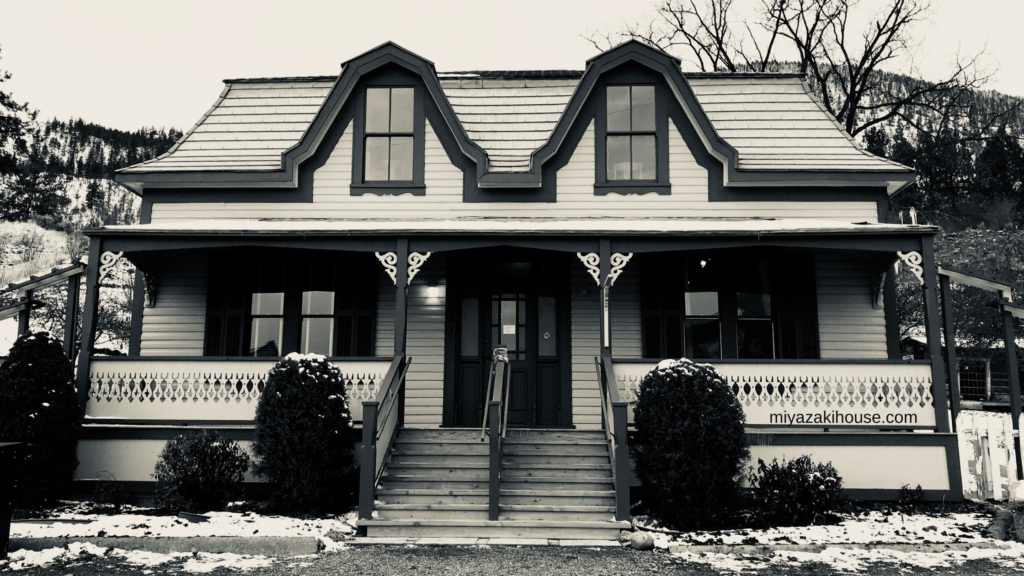 Seeking Contractors and Quotes
We are currently seeking contractors and quotes to do the following repairs and restorations. Repair and repaint the exterior of the house and add or replace gutters. Insulate the building, upgrade windows and make it more energy efficient. Assist in determining needed repairs. More details about our plans are included below including completed projects.
Before we can apply for funding we require quotes and contractors who can commit to complete the jobs . If you are building contractor interested in working on the heritage house please complete the form below to express your interest including your phone number.
Contact Us.
Use this form to contact us by email.
Repair and Restoration Wish List
Here's a list of all the repairs that were originally determined to be needed to bring the building up to standard. They include the following and are not limited to:
paint the interior walls and ceilings (completed)
repair and paint the entire exterior of the house
roofing over critical areas
install new gutters and downspouts
repair and refinish the wood floors on the main floor and upstairs
remove old wallpaper, install drywall, and paint all the interior walls upstairs
replace trim
upgrade the landscaping of the grounds,
repair the collapsed root cellar
install an outdoor security system to prevent vandalism that consumes a fair amount of our annual repair budget.
Additional items have been added to the first list:
Upgrade windows, by replacing all the single-pane glass with double glazed
Insulate the house to make it more energy efficient
Replace french doors in the kitchen
Replace the decking to the back door, which is the handicap-accessible entrance.
Install central air conditioning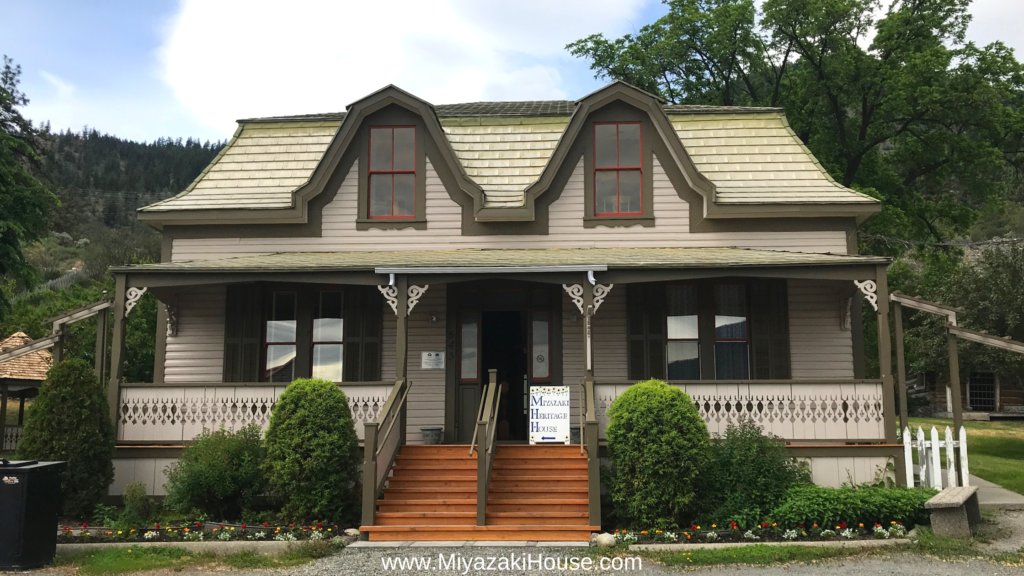 Completed Restoration and Upgrade Projects.
Following is a list of projects that have been completed:
Facade project – the Miyazaki House gets a Facelift. Replace the covered veranda, front stairs, and railing. Paint the front facade of the building. Upgraded two windows (the single-pane glass was replaced with sealed double-glazed glass in the original frames) overlooking the veranda on the main floor. Restored and rebuilt the gazebo. Replace deck to glass doors and add a ramp. Funding from a Canada 150 grant through BC Museums and a Facade grant from the District of Lillooet.
Kitchen project – painted walls and ceiling, replaced the linoleum with vinyl plank flooring, added more base cabinets, replaced the fridge, and stove, added a dishwasher and upright freezer and replaced the single pane glass with double-glazed windows. Replaced light with light, ceiling fan combination. Funding from BC Seniors grant.
Painted the walls and ceilings of all rooms on the main floor with historical colours.
Replaced the circa 1950s oil furnace with a new electric furnace. Funding from Squamish Lillooet Regional District Area B.
Art rail moulding was installed in the Visitor Information Centre room in 2022.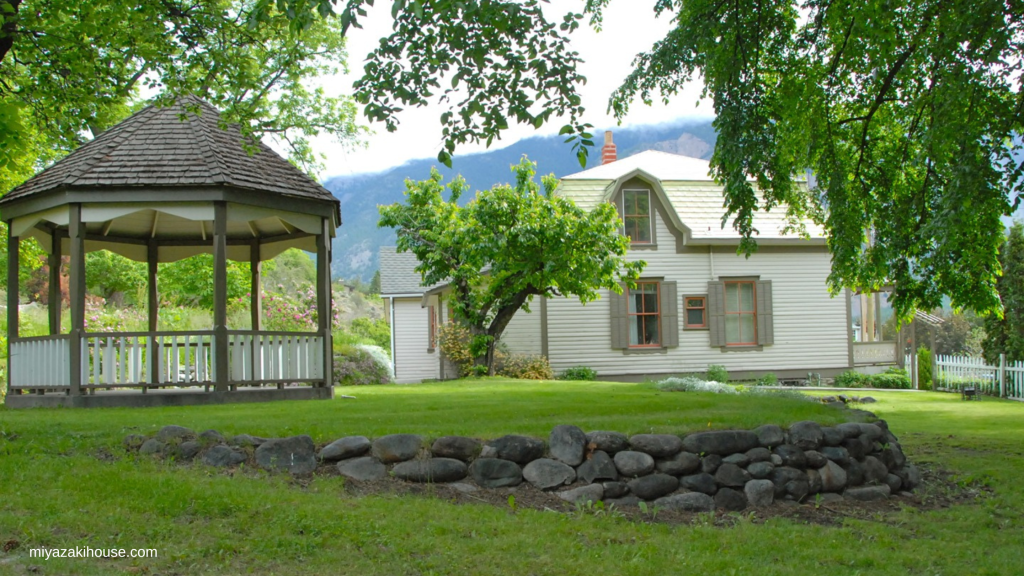 Standards and Guidelines for the Conservation of Historic Places
We endeavor to follow the Standards and Guidelines for the Conservation of Historic Places in Canada to respect the heritage character of the building during preservation, rehabilitation, and restoration. This includes:
Conserve the heritage value of a historic place. Do not remove, replace, or substantially alter its intact or repairable, character-defining elements. Do not move a part of a historic place if its current location is a character-defining element.
Conserve changes to a historic place which, over time, have become character-defining elements in their own right.
Conserve heritage value by adopting an approach calling for minimal intervention.
Recognize each historic place as a physical record of its time, place, and use. Do not create a false sense of historical development by adding elements from other historic places or other properties or by combining features of the same property that never co-existed.
Find a use for a historic place that requires minimal or no change to its character-defining elements.
Protect and, if necessary, stabilize a historic place until any subsequent intervention is undertaken. Protect and preserve archaeological resources in place. Where there is potential for disturbance of archaeological resources, take mitigation measures to limit damage and loss of information.
Evaluate the existing condition of character-defining elements to determine the appropriate intervention needed. Use the gentlest means possible for any intervention. Respect heritage value when undertaking an intervention.
Maintain character-defining elements on an ongoing basis. Repair character-defining elements by reinforcing their materials using recognized conservation methods. Replace in kind any extensively deteriorated or missing parts of character-defining elements, where there are surviving prototypes.
Make any intervention needed to preserve character-defining elements physically and visually compatible with the historic place, and identifiable upon close inspection. Document any intervention for future reference.
Repair rather than replace character-defining elements. Where character-defining elements are too severely deteriorated to repair, and where sufficient physical evidence exists, replace them with new elements that match the forms, materials and detailing of sound versions of the same elements. Where there is insufficient physical evidence, make the form, material and detailing of the new elements compatible with the character of the historic place.
Conserve the heritage value and character-defining elements when creating any new additions to an historic place or any related new construction. Make the new work physically and visually compatible with, subordinate to and distinguishable from the historic place.
Create any new additions or related new construction so that the essential form and integrity of a historic place will not be impaired if the new work is removed in the future.
Replace missing features from the restoration period with new features whose forms, materials, and detailing are based on sufficient physical documentary and/or oral evidence.
The Standards and Guidelines for the Conservation of Historic Places in Canada can be found here.
Please follow and like us: