Veils Art Exhibition and sale by Betty Weaver opened at the Miyazaki House on July 16th, 2022, and runs until August 13th, 2022. The grand opening of her thought provoking art exhibition kicked off with a delightful Engish style tea including scones with homemade jam and honey butter, mini tarts and cakes, shortbread, neapolitan squares, and little sandwiches with the crusts cut off. The opening was well attended and feedback from guests was positive.
Veils Art Exhitibition
Veil to conceal or disguise. Veils is a complex installation by local artist Betty Weaver, having to do with veils… what they hide, and what they protect. The abuse that can occur behind them, from the kinds of abuses that can occur in families to the abuses of colonial systems and the veils that hide those.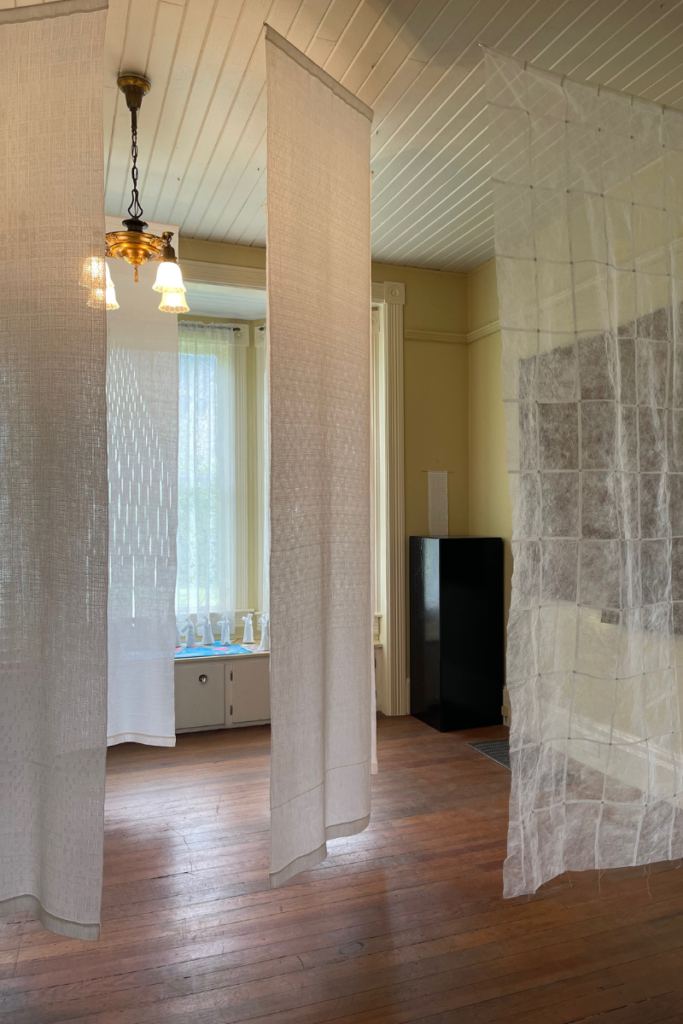 In 2020 Betty Weaver began work on a series of gauze weave, white, linen hangings using the title 'Veils'. The chosen material, white linen is a reflection of culturally valued material and the concept of purity in women. The title references the Buddhist philosophy that we see the world not as it is but through veils created by our values, traditions, emotional states, and cultural history.
The five woven pieces are designed to be walls, creating an enclosed space that can be viewed from the inside or outside. Each panel is a variation on the theme.
White Wash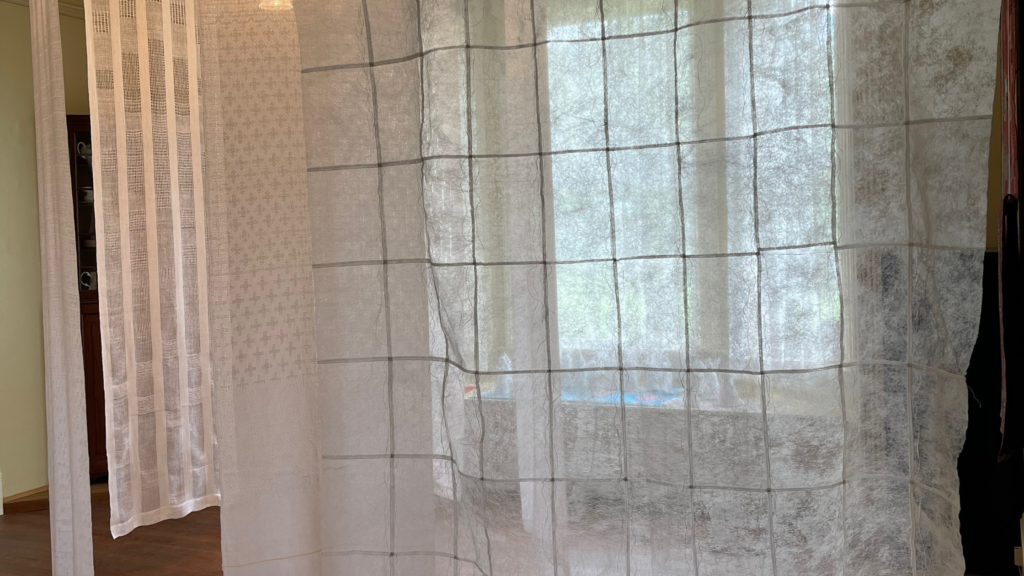 A sixth veil, named White Wash is constructed of used dryer sheets and dental floss. It is a visual comment on the creation of waste in our society. It hangs at the entrance of the installation, veiling what is inside.
Entrapment
A additional woven piece, indicating entrapment, consists of a woven tube in which hang various white painted dolls.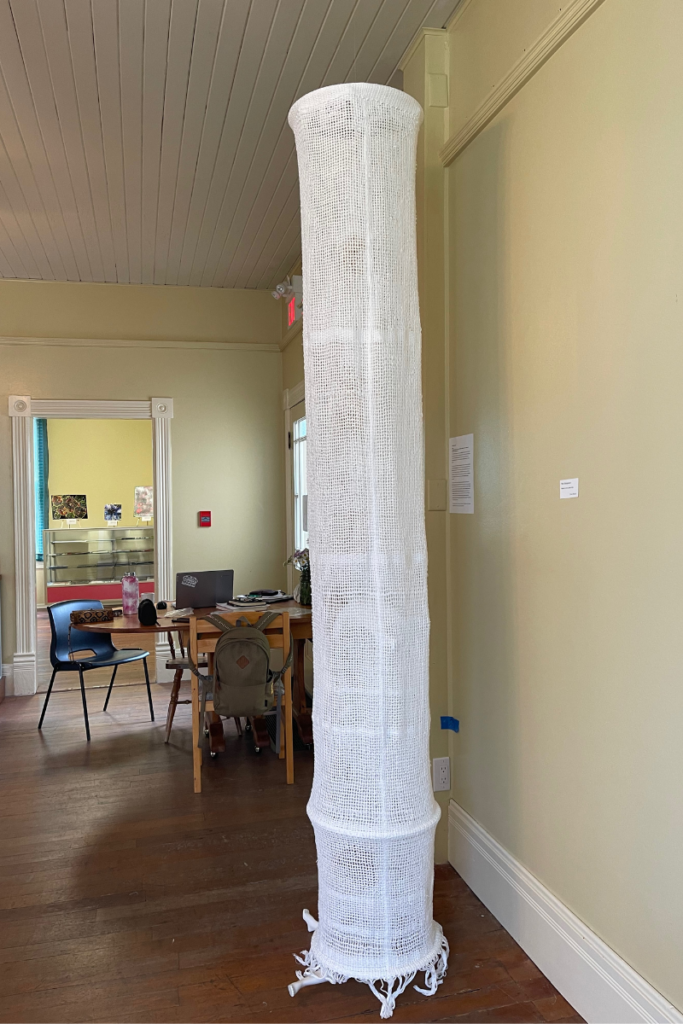 Onward
This led to the next work, a sculptural work named Onward based on Betty's historical-cultural teachings. She says, "My family is of mostly British heritage, having emigrated to Ontario over a period of one hundred years. I grew up in Southern Ontario in a very white, Anglo-Saxon, Protestant (WASP) area. I experienced the rise of the Civil Rights movement in the USA in the 1960s. Became aware of the damage caused by slavery, economic exploitation, and colonialism. All designed to destroy the economy, culture and belief system of the "other". I also learned of the linkage between religious and military orders and activities, and the massive transfer of wealth colonialism enabled. This continues to be a life-long learning."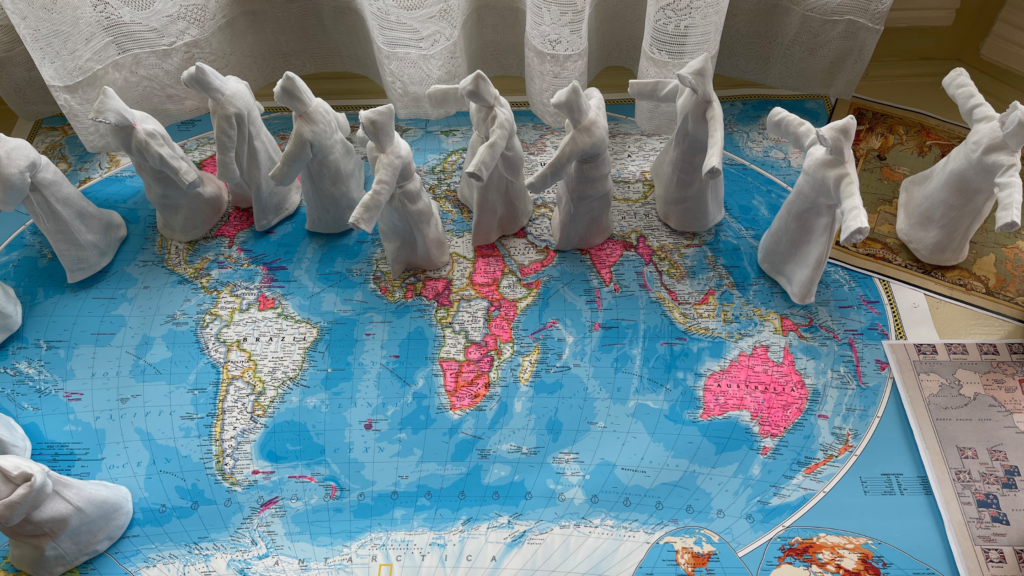 This powerful piece includes hooded, white robed figures, indicators of treasure and a map of the world marked with the pink empire that was taught to Betty and many of us in elementary school.
Broken / Uprising
The multipart Broken / Uprising is a reflection on deliberate cultural damage inflicted in the world and a response to oppression.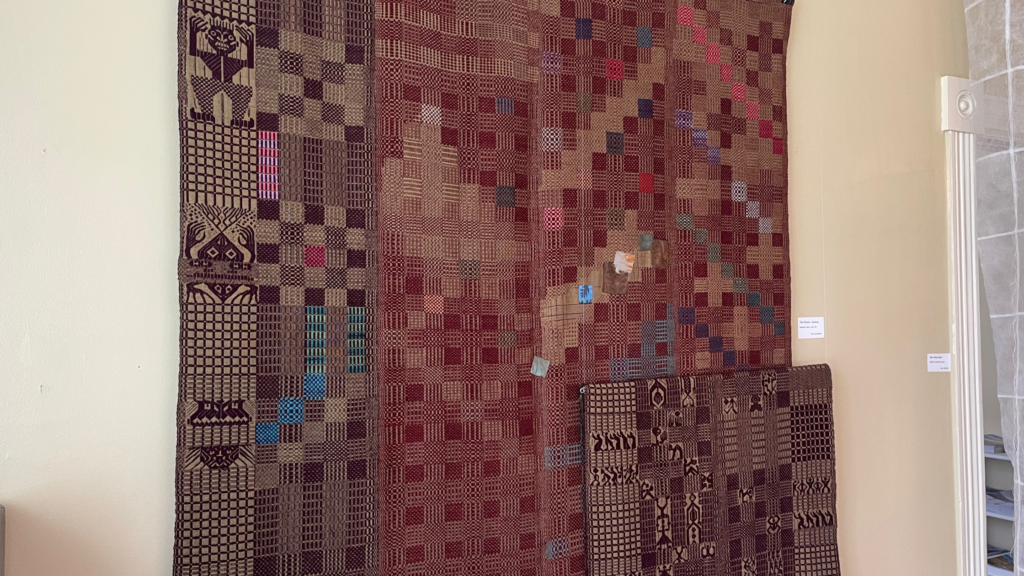 Betty hopes that through these art pieces, that come from her own self examination, she might help others reflect on their internalized values and cultural teachings. that others may recognize that these have been both privileges and limitations.
Meet Betty Weaver the Artist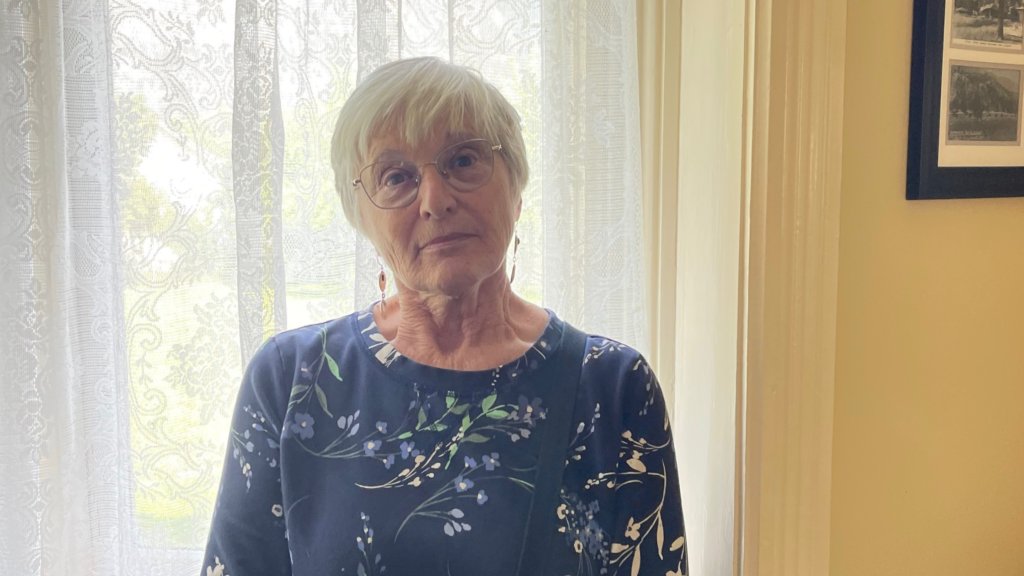 I learned to weave in 1977 or 1978 from Jessie (Granny) Leavens. She had a loom at her home in the Good Earth Trailer park and was the first inspiration and organizer of the Lillooet Weavers Guild. I was living on Jone's farm and wanted to learn to spin wool from the sheep they raised. Granny insisted that I learn to weave as well as spin and I will always be grateful to her for her patience and dedication to craft.   
I began by weaving practical items, blankets and rugs, until I could manage fine yarns and then I wove cloth for clothing and scarves. I  became interested in traditional weaving, especially those of what are now the American south-west, Peru and Indonesia. Their weavings told stories and were significant ceremonial pieces in their society. I also became fascinated by the colonial weaving of eastern Canada and the states, especially the patterned coverlets. 
I generally use natural cellulose or protein fibres in my weaving, cotton, wool, linen, silk and rayon. I also dye many of the yarns. I enjoy manipulating the weaves, inlaying coloured areas or altering the structure by various hand manipulations. 
I continue to be challenged by the possibilities that the structures of weaving provide. I am excited by the continuous learning that it demands. 
This Art Is For Sale
Stop by the Miyazaki House to view, learn more and purchase these beautiful art pieces until August 13, 2022. After that date you may contact us and we will connect you with the artist.
All of these art pieces would make a stunning addition to your home or office whether you are captivated by their beauty or the powerful message the artist wishes to convey.

Please follow and like us: